there's no place like home, malaysia.
however, for the past two years, i've been living in dubai, following my husband who works here. this month (18th october to be precise) marks our 2nd year being part of the huge expat community in dubai.
seems only yesterday i 'celebrated' our 1st anniversary of living in dubai. it was just the three of us when we started off, as i was pregnant with kahfi when i arrived in dubai. and just two years later – we're suddenly 5ive!
us in 2008 @ klia to dubai (see my baby bump?) ~ us in 2010 on recent trip back
i have a confession. before coming here, i thought abu dhabi and dubai are two different countries. really! turns out, they both are states in a country called united arab emirates (UAE) and abu dhabi is the capital.
mana la tak macam dua negara? abu dhabi and dubai have their own airline; etihad for abu dhabi, and emirates for dubai. their police wear different uniform, and harga minyak pun lain-lain tau!
* * *
introducing dubai!
where is dubai in the world map? it's the one marked star – see how far it is from malaysia? but it seemed to be right smack in the middle of the world map, right?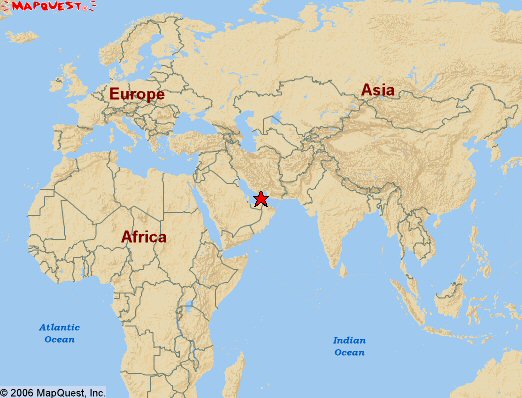 flight kl-dubai takes about 6 hours plus, and we're 4 hours apart – if it's 8am in dubai, it's already lunch time in malaysia at 12 noon!
the picture below will show you the location of the 7 states, or here they call it 'emirates' – abu dhabi the capital, dubai, sharjah, ajman, umm al quwain, ras al khaymah and fujairah.
abu dhabi – mellow city but fast catching up on brother city, dubai with their awesome yas hotel (yang bentuk macam topi basikal tu) and the gorgeous ferrari world
dubai – our home!
sharjah – home of qanat al-qasbah yang macam venice
ajman
umm al quwain – we hunted crabs here!
ras al khaymah
fujairah
fantastic facts on dubai!
since 1833, dubai has been ruled by the al maktoum dynasty – the present ruler of dubai is the handsome sheikh mohammed bin rashid al-maktoum
the climate is hot and dry - sunny MOST days of the year. in summer it can be super hot, temperature reaching 50c! however, during winter (nov – feb) it can be very pleasant, and some days surprisingly VERY cold, especially when it's windy!
dubai is tax-free, there are no income taxes nor personal taxes!
the currency in dubai is dirham (dhs/aed)
80% of people in dubai are foreigners, (tu aku rasa kenapa emiratis kena buat muka nyombong. diorang sekarang sikit dari pendatang, so have to show who owns the place!)
dubai is one of the safest cities in the world to live in with an extremely low crime rate
male emiratis wear kandura (long, white garb), while the females wear abaya (black jubah) ~ (aku suka tengok mamat emirati hensem yang pakai kandura, tapi dengan cap! ade jugak penah nampak awek emirati pakai abaya dengan sneakers! yeap! coolness!)
'sheikh zayed road' is the longest stretch of highway in the UAE starting from the state of abu dhabi, across dubai and ends in ras al khaymah. it's much like what federal highway is to KL. it houses a lot of office and apartment buildings
oh, and of course – dubai is the home of the tallest building in the world – the burj khalifa
dubai marina (where we live) contains over 200 highrise buildings (apartments and condos, hotels & office buildings). gile kan? i'm not done – right across dubai marina, is the jumeirah lake towers – yes, ALSO filled with puluhan lagi highrise buildings (more offices, and apartments).
imagine these buildings are domino blocks. sheesh.
the ones i exed are postponed or cancelled projects. see dubai marina? and next to it, the palm island? that's the only mega project that has completed. it's really an unbelievable feat, and you just need to drive there and walked on the grounds of palm jumeirah island to soak in the fact that it's the biggest man-made island in the world!
the other one that i circled – bur dubai, was our first home in dubai before moving to dubai marina. i love it there. it's much closer to al-tawasol, my favorite mandi restaurant!
* * *
5 things i like about dubai
here, almost everything can be delivered to homes. one pack of rokok, pieces of roti canai, a plate of briyani or sandwiches – you name it – they can send it. so when mr. khairul is off to one of his many business visits for a few days and i'm swamped with the kids, i just call up the kedai runcit bawah, and they'll send up one bottle of fresh milk and a loaf of bread!
in most restaurants, there's always a family area, and singles area. so it's really comfy for us bringing a baby. also, a lot of places have separate sect for male and female - for example the clinic waiting room and the metro train (lrt). also swimming pools and gyms. the park has days where only females can go and exercise, and there are days where families can go.
of course, the international crowd is awesome. everywhere you look, there's mat salleh, malay look (most with malay looks would probably be from the philippines or indo) chinese, indians, arabs, arabs who look like mat saleh, arabs who look like hindi people – it's quite a sight – a myriad of languages, culture, and idiosyncrasies
i LOVE the malls in dubai! be it the biggest mall in the world dubai mall, or mall of emirates (which has the biggest indoor ski in the mid east), the classic mercato mall or dubai festival city
saving the best for last, i like dubai because this is where i fall in love with NASI MANDI! i'm a self-confessed nasi mandi addict! i also self-appoint myself as the unofficial spokesperson for al-tawasol, my favorite nasi mandi restaurant in dubai!
5 things i dislike about dubai (aside from semua barang mahal!!!)
every service here requires you to give tip, at least 2dhs (equivalent to RM2). from taxi driver, waiters, petrol pump attendant to the pizza delivery guy. if you don't tip, i guess it's fine - but don't expect your food to come on time on your next visit!
we're almost ALWAYS mistaken for philippinos. malaysian lah – MALAYSIAN, and proud to be!
there are no street addresses in dubai – seriously, i don't even know my home address! i always tell the cab/delivery guy, "the building in the middle of apartment W and apartment TY".
here in dubai, when you need petrol, you MUST place your car so that the pump will be exactly next to your petrol door. if your petrol door is on the other side of the pump, the police might fine you! so sometimes you'll see a long line on only ONE side of the pump only. ntahape kan
the summer heat can be deadly, and i'm not speaking figuratively. memang ada orang mati sebab working under the hot sun! if i'm not mistaken, if the temperature hits 50 degrees, the construction workers get a day off!
oh lagi? in dubai, when you want to tapau food, you don't say 'tapau' or 'take away' – you say 'parcel'. "this one parcel, yah?" i was really surprised when i first heard it! it's weird!
ah, so much more – and as much as i miss my family and home so much, it has been an enjoyable 2 years in dubai. we have a large malaysian community here, so raya gatherings or any other activities held are never short of warmth and the feel of malaysian hospitality.
we're all right here!
* * *
my eldest son khaleef, with burj khalifa; the tallest building in the world
sigh. 2 years already, huh?
lagi berapa lama lagi mau duduk sini, mr. khairul?