when i was little, i remember dressing up like a doctor, buying those cheap plastic 'medical equipment' or 'police equipment' complete with a fake police badge, handcuffs, a gun and baton – just to pretend to be a police officer.
well, 'KidZania' allows kids to do that, and much, much more.
to me kidzania is basically like a theme park – there are no heart-thumping rides or arcade games; but a replica of a real city with real-looking streets, signage, buildings, shops and cafes – but for kids! here, kids can experience the working world, and get a sense of responsibilities.
yesterday, khaleef went there on a school trip with his classmates. i was very disappointed because i wanted to join him, watch him play and take photos, but noone to take care of kahfi and kazim since mr. khairul is in algeria.
here at kidzania, the kiddos can :
pretend to be adults
choose jobs to do (over 70 occupations to choose from!)
wear real uniforms; dress up like a pilot, a fire fighter or a doctor
get a real feel of a particular job (under adult supervision) and its responsibilities
earn money by building walls with 'bricks' or flip burgers
and spend it!
the ultimate heaven for day-dreamers, kids with imaginary friends and those who loves to play pretend!
geramnya tengok bandar kecik ni
'KidZos' is the accepted currency in this 'city', which the kids can use to buy 'groceries' or pay for pizza that they make on their own. i think this gives the kids a sense of value in the things they take for granted in life – well, usually daddy mummy pays for everything!
at kidzania, they not only have to watch what they spend, but they have to earn their money too! khaleef told me he had to build a wall by arranging 'bricks' – jadi bob the builder pulak khaleef! also he gets to 'be' a doctor for the day, checking up 'patients' at a clinic!
khaleef with his 'hard-earned' kidzos
interesting thing is, there are a few popular brands that are willing to be part of kidzania including the emirates airlines (kids can dress up like pilot, or cabin crew!), HSBC (you can see their logo clearly on the 'kidzos' money), ENOC (petrol station) and of course, mcdonalds! even the paint brand jotun has a 'shop' there, for kids to try painting walls and learn the right way to paint.
* * *
these are some of the many, many 'jobs' kids can participate in and learn a thing or two. (all image is from google)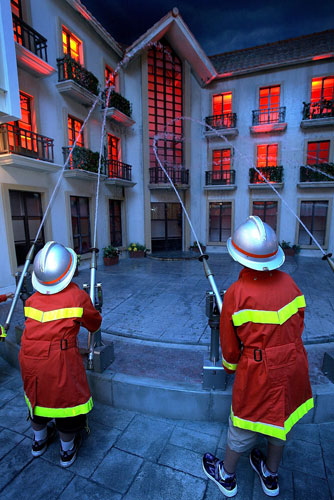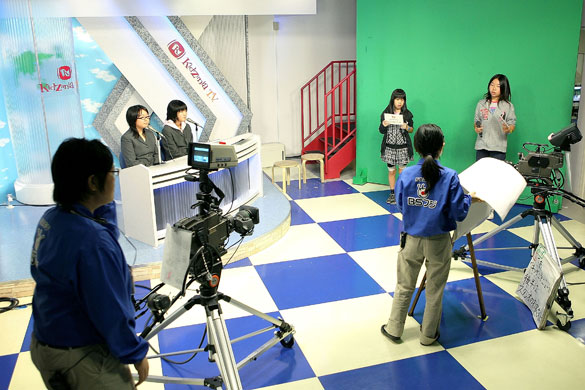 * * *
i really really wished i could have been there for the whole fun experience with khaleef. aku pulak yang over ye hihi. i wanna see him wearing surgeon scrubs. or a fire fighter uniform. i want to see him build houses and make pizza. i want to see him fly airplanes and fill up petrol at the petrol station!
at kidzania, parents can go in with their kiddos – tapi to me mahal sangat – 90dhs JUST to watch. because parents can go in kidzania to accompany their kids but they are not allowed to join, or help them. if you want to eat while inside kidzania (outside food not allowed) you have to fork out extra.
that's just downright daylight robbery lah! pay 90dhs JUST to watch, and cannot even join in with your kids. at least that 90 dhs should come with complimentary snacks if not a whole meal of lunch or dinner!
well, i complain and complain – but i bet when the time comes for me to finally get to join khaleef at kidzania, i'd pay the 90dhs too…
* * *
just wanna tell you guys, while googling for images, i saw a picture of our deputy PM in what look like an opening ceremony of a kidzania. i was surprised! kidzania already opened in malaysia? or opening soon? i googled further and found out that there will be (or is already?) at the curve. anyone boleh confirmkan?
anyway, i imagine a malaysianized kidzania in malaysia – maybe budak boleh jadi penebar roti canai and earn money. or visit a 'pasar malam' and spend their money on food, or dress up as police officers to foil a ragut attempt!