i like to sing very much. while driving, while cooking, while blogging. I sing. so naturally, I like karaoke too. it liberates me. it lets me sing as loud as i want, with real music to back my singing. it lets me live an imaginative world where i am an award-winning singer at a LIVE concert. with fans cheering at the back. and by fans, I mean the people who came with me to the karaoke place. haha.
* * *
my youngest sis azi knows very well how much I love singing so she and her fiance faiz treated me to a night of karaoke last few weeks. this has been an idea we throw about for weeks now, even before ramadhan, and only now did we really go out and do it.
the boys were with my in-laws, and mr. khairul out with his friends – so I was grabbing the chance to have one late night out and go nuts!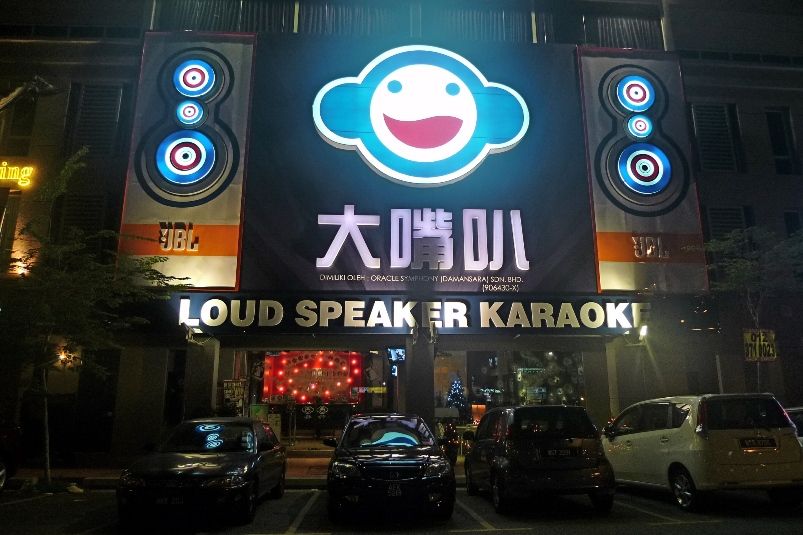 azi and faiz took me to 'loud speaker karaoke' at kota damansara. it's a rather big, imposing place with bright lights and huge writings in chinese – terasa macam nak berkaraoke kat hong kong!
the touch-screen to choose songs is the one on azi's left, in front of the sofa
the room is fairly spacious as it was just the three of us. very comfy and well-air-conditioned. plenty of space to swing around while you sing (nak buat breakdance pun boleh), with two small tables to put your drinks and food.
food is sold here, but we opted for the 'just-drinks' package which offers bottomless drinks till the end of our 3-hour karaoke session.
how to choose your songs?
a touch-screen is right in front of you where you can make your song choice as you sit watching your friends singing (like in the picture above). I like it because in some karaoke place, the touch screen is placed on the wall next to the tv so you need to get up to choose a song. and it can distract the person who is singing too!
guess which singer did I check out first? haha
though you can control the volume from the touch-screen, there's also a small remote on the wall on the other side of the room to control the volume.
yay! i really let go and sang my heart out! over gile lepas geram punya pasal. songs of anuar zain, dayang nurfaizah, innuendo, jaclyn victor – I was having fun! it was just me, my sister azi and her fiance who had to endure my singing! haha.
azi and faiz even sang THEIR song – a love song that sort off explain their feelings for each other, michael learns to rock's 'I'm gonna love you'. eww. haha. faiz has a really soothing voice like an indonesian singer (bleh!) and azi's soft tone of voice complements his. meant to be la tu konon. hoho.
thanks azi and faiz for finally putting your feet down, just got out and pulled me into this happy mess of loud songs and awfully great singing. one of the most enjoyable moments I've had. hope we can do this again soon!
* * *
just a week after, my singing-crazy sis-in-law also suggested a karaoke place in alamanda called 'superstar', which surprises me as it looks very posh and polished. the black and white walls with bright white lights in lines remind me of something out of the movie 'tron'. haha.
nways, this time it was a slightly bigger 'crowd' – I came with mr. khairul and his siblings – tina, asrar and his 12 year-old youngest sis sofia also tagged along.
we took one of the food-and-drinks package which includes a regular box of non-caramel popcorn, fries, kacang putih and 5-piece nugget. for drinks, it's a jug of iced coke. not bad for a night of belting out songs of love and broken-hearted!
when I looked at the menu, I was amused – the menu not only consist of western food such as nuggets and chicken wings, but keropok lekor ngan cucur udang pun ade! this really is a malay-owned karaoke place!
for a 5-people group, the room we're given is quite small, just enough for a long sofa, one small table and a narrow place for those who wants to sing standing up. however, the fun time spent is most important, and the siblings make the most of the time they have with their eldest brother yang balik bercuti dari dubai tu!
they were loud, funny, and really went all out when singing. ALL of them enjoyed karaoke-ing so after a few song-choice, I just need to sit back and enjoy the loud merriment and let these crazy kids hog the mic. hihi.
my bro-in-law asrar with his rock kapak voice, my sis-in-law tina with a LIVE recording-artist voice that suits any songs especially the ballads, and even my 12 year-old youngest sis can belt out beyonce songs with ease. these kids are not just karaoke-nuts – they actually sound good!
the touch-screen for song choice is on the wall right next to the TV screen
mr. khairul did not sing, you might ask? haha I broke the ice asking him to sing anuar zain's 'lelaki ini' for me. hihi. and then I regret it. I had opened a door. a karaoke-craze person came out from mr. khairul and throughout the night went wild singing bon jovi, zainal abidin and even KRU. way to blow off some steam, tuan pengarah!
* * *
err, is there karaoke place in dubai?