'the cheesecake factory' is open in dubai! imagine all the cheesecake flavors you can ever hope to eat in a place called 'the cheesecake factory'. it gives me goosebumps!'
I know the cheesecake factory from my favorite sitcom 'the big bang theory'. the characters leonard, sheldon, raj and howard like to hang out there, and their gorgeous neighbour penny works there. it often comes up during the show, and I was more and more intrigued knowing that it's a real-life popular
makan
place in the states.
my attachment to it is just like when I was so excited going to 'central perk' in mirdiff mall (now closed) from another one of my favorite sitcoms – f.r.i.e.n.d.s!
…and knowing that it just opened in dubai last august made me SO wanna go. it's their FIRST ever branch outside of the united states, so everyone is pretty excited about it.
the cheesecake factory at dubai mall is right opposite the dubai aquarium. it's so huge that it has 2 entrances in fact. you can enter through the one opposite the dubai aquarium, or you can enter through the entrance at the gold souk.
if you wanna go straight to the cheesecake factory, park your car at 'dubai aquarium'. bam! you're there.
I found out about its opening while I was still holidaying in malaysia, and I read that it took almost 3 hours to get a seat at the cheesecake factory when it first opened. I told mr. khairul that if the line gets too outrageous then we try another day. or another month when the craze has died down a bit.
* * *
when we arrived, we went through the gold souk entrance, and there was just another person there at the counter. it took less then a minute for us to leave our names, and we're given a beeper. a BEEPER? now this is new.
what's the beeper for?
we were told to wait 1hr n 15mins or so for them to beep us when our seat is ready. so we did have to wait (
walaupun tak la sampai
3 hours!) but we can walk around first, because we've got the beeper. true enough, after one hour, the beeper goes off and we got our seats!
when the beeper sounded, I must admit it was exciting! haha. there was even flickering red lights going around it that makes it more alarming – come now! your seat is ready! woohoo!
* * *
what to eat what to eat?
menu dia mcm buku novela yg amik masa dalam setengah jam nak habis.
so many to read and decide on. you think that it's a 'CHEESECAKE factory' so it's bakery or a café, right? nope. appetizers, pasta, pizza, mexican, sandwiches, burgers, steaks and seafood – you name it, they got it! (they don't have nasi lemak or laksam la, but you know what I mean) and I haven't gone through the dessert section yet!
it's a bit (a lot actually) on the pricey side, and I don't think I would come again real soon – probably wait until we come to a special date like birthdays or anniversary!
the cheesecake factory have got kids' menu – but this menu has the most expensive kids' meal I've ever seen in a kids' menu. shouldn't it be cheaper since it's got less portion made for kids? khaleef was pestering for us to get the mac and cheese, so we got him that. but we're not happy about it! haha.
this is 'chicken madeira'. it's exactly what was described in the menu. the chicken was tender and juicy. the melted cheese that envelopes it goes very well and would satisfy any cheezy savoury-dish fans. I love the mushroom, and I love the crunchy fresh asparagus.
the mash potato is just so creamy, and call me uncultured but I just don't like potato skin in my mash potato. I know it seemed that a lot of fine dining or semi fine dining places do mash potato like this – but I'm just not a fan.
bleh! i honestly love this dish!
the portion for chicken madeira is huge! in fact I read somewhere that MOST of the portions are huge, so you might wanna get one main dish and one entrée and share. or go there really, really hungry. because remember – after that huge meal, you've got a cheesecake to eat!
* * *
lemme talk about the service at the cheesecake factory.
ok, from the get-go, the service was top-notch. since this is their first branch outside of the states, I think it's only right that they bring their A-game. the waiting staff was warm and friendly despite the obvious hustle and bustle.
our waiter for the day (we didn't get his name, which is his fault haha – I thought it's so american to say things like, "hey I'm ___ and I'll be your waiter for today,") but in his defence, he's middle eastern. and he's so cute. hihi. when I asked him about the popular 'chicken madeira', he was like,
"oh yeah, you're going to like--- no, not like – you are going to LOVE it." cute!
* * *
ok, not much to be said about the decor. didn't like it. have to admit, I was hoping for a more hip and youthful, but still classy décor. bright, and more
lepak
. but this is too trump-tower meets vegas meets king midas. I dislike the orange lighting too.
and then I thought, it's because they've opened a branch in a mid-east country. when I googled – nope. this is what the cheesecake factory looks like on the inside.
again – did not like it!
on a positive note, I like the booth seat that we got – it's so great for us having 3 boisterous boys because it's so comfy and cozy for them to sit on the inside part of the booth seat and do whatever they want, while we sat and block their way out. nice.
* * *
and now we've come to the STAR of the show – the CHEESECAKES!!!
I was like, hypnotized as I read the menu. line upon lines of tantalizing description of each cheesecake – I can't even begin to choose! i actually enjoyed reading each and evry description of the cheesecakes over and over again.
after much deliberation, and absolutely NO consultation with mr. khairul – haha. I settled on 'ultimate red velvet cake cheesecake' and 'craig's crazy carrotcake cheesecake'. each plate is served with a dash of whipped cream, which I didn't eat. coz I don't like whipped cream. I think they taste like, air.
so, I don't wanna be too crazy and choose a hershey cheesecake or an pineapple upside down cheesecake or anything. just plain and straightforward for our first time at the cheesecake factory. something with red velvet or carrot cake.
this cake is called 'craig's crazy carrot cake cheesecake' - carrot cake n cheesecake swirled together topped with cream cheese icing and almond. heavenly! but I have to confess I've had an equally delicious carrot cake elsewhere, so though this is a really good one, but not SO good that I cannot find anywhere else.
and who's craig anyway?
this is the 'ultimate red velvet cake cheesecake' - it has red velvet, layers of cheesecake, a huge BLOB of cream cheese on top, and shards of grated white chocolate on the side!
alhamdulillah
able to taste such heaven on earth!
the red velvet cake is so moist and filling all by itself! the cheesecake part of it is so creamy, but too cheezy for mr. khairul. my boys and I are cheese-freaks, so we loved it!
one of my problems with other red velvet cakes out there is that they DON'T HAVE ENOUGH cream cheese! however, at the cheesecake factory, they don't call this cake 'ULTIMATE' for nothing – the cream cheese was divine, and they're not stingy about it! a huge layer of cream cheese that rendered me speechless on my first bite.
it's definitely a LEGENDARY cake – upon which all red velvet cake cheesecake would be measured!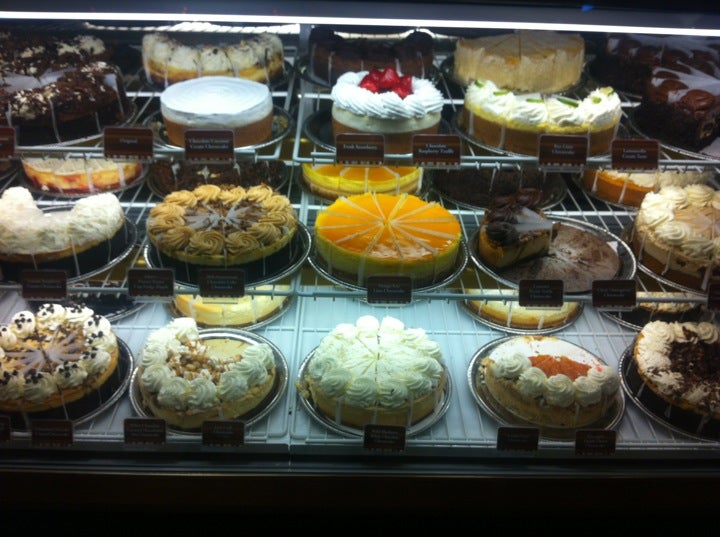 I'll leave you fine people with one single tip – when you go, try to get the dessert FIRST. haha. the huge portion of the main course might leave your tummy no space to appreciate the grandeur of its celebrated cheesecakes. just my thought.
in fact, when I go next, I'll just scrape the main course altogether – and JUST get a cheesecake. or two. ok, four.